Search results for: "President Macron"
€ 253M PLEDGE OVER TRAGIC BEIRUT BLAS
Responsible Author: Jedi Foster P/O Rahma Sophia Rachdi | Paris, Dubai, Washington DC, 08/11/2020, 01:02 Time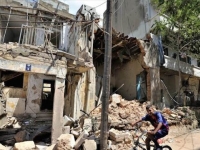 USPA NEWS -
The "International conference on support to Beirut and the Lebanese people" met virtually on August 9th at the invitation of the President of the French Republic, Emmanuel Macron and the Secretary-General of the United Nations, convened in immediate response to and support in the aftermath of the August 4th explosion in Beirut, the (Source Elysee) "On behalf of the Secretary-General, I reiterate our appreciation to President Macron of France for co-convening this really important conference. I thank the leaders here today for your support to Lebanon, and I urge all other leaders to join us in solidarity. The city and people of Beirut have been devastated. » Secretary General of United Nations, Amina Mohamed Deputy Secretary General said.(Source: UN)
HE CALLS FOR A NE POLITICAL ORDER
Responsible Author: Jedi Foster P/O Rahma Sophia Rachdi | Paris, Washington DC, Dubai, 08/07/2020, 04:24 Time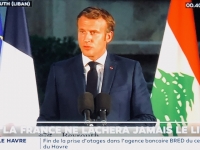 USPA NEWS -
President Macron appeared in great shape with a tanned face, a sign of the start of his vacation in the sunny South of France, which interrupted to pay his visit the day after the tragic double explosion in the port of Beirut. (See article). President Macron immediately reacted by twitter like other world leaders, but he is the only head of state to go there, to both recover from the material and human damage and to express his solidarity and fraternity "in the name of the French people towards the Lebanese people. According to Times Magazine « A military judge leading the investigation into Tuesday's blast said 16 employees of Beirut's port, where the explosion took place, had been detained. He said 18 had been questioned, including port and customs officials, according to the state news agency. » President Macron then ambulated in the city of Beirut where the Lebanese people acclaimed him, as head of state who made the trip to express his brotherhood to the people bereaved by this tragedy of the explosion of devastating in the port of Beirut .
| | |
| --- | --- |
| | Daren Frankish |
| | RAHMA-SOPHIA RACHDI |
| | Ruby BIRD |
| | Yasmina BEDDOU |
| | Aurangzeb Akbar |