Bahrain conference
Responsible Author: Zayad Alshaikhli | Palestine, 06/28/2019, 15:15 Time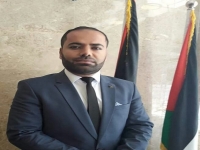 USPA NEWS -
The Palestinian writer and politician Ahmad Abu Zuhri reports in an interview on the activities of Bahrain conference, the political scene in Palestine and the reactions to it.
President Trump is undermining all real steps that will lead to peace and undermining steps to defuse tension and end Israeli occupation of the Palestinian territories.
AT SUMMIT OF THE TWO SHORES
Responsible Author: Jedi Foster P/O Rahma Sophia Rachdi | Paris, Washington DC, 06/26/2019, 03:38 Time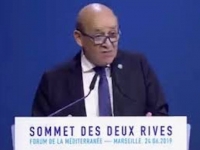 USPA NEWS -
The Summit of the two banks (Shores of Mediterranean Sea), is the result of an initiative of the President of the Republic Emmanuel Macron, the Summit of both shores, Mediterranean Forum, is held in Marseille on June 23 and 24, 2019. At the end of an unprecedented exercise of consultation of the Mediterranean civil society, its ambition is to relaunch the momentum of cooperation in the Western Mediterranean through the implementation of concrete projects for human, economic and sustainable development in the region. At this occasion the French Minister fo Foreign Affairs, Jean Yves Le Drian is addressing the guests and his counterparts addresses a speech marking the ponies of this two days summit. We are publishing the full text keynote of the Minister's Opening Speech, Jean Yves Le Drian, and Marseille Commitments, at the Summit of The Two Shores 2019 »
Congress has been debated the issue
Responsible Author: Ricardo De Melo Matos | San Francisco, 06/24/2019, 18:56 Time
USPA NEWS -
Today in the U.S., the everyday struggle lesbian, gay, bisexuals and transgender people face is often misunderstood or looked upon as an "agenda" for special rights. While great strides have been made in this country toward equality, much of it has come through changing social attitudes and forced judicial decisions.
One of the biggest challenges facing the LGBTQ community is the fight for non-discrimination at work. This battle to receive equal protection under the law while in the workplace is far from won and can find its roots in the liberation movements of the 1960s.
As it stands now, over half of the states in this country, 29 in total, continue to practice some form of open and legal workplace discrimination. While gay workers have felt empowered in the past 20 years to file suit against open harassment and discrimination, the court system often stymies progress in furthering the civil right to all in the workplace.
Now however the U.S. Supreme Court is set to hear arguments and decide whether the Civil Rights Act of 1964 can extend guaranteed protection from workplace discrimination to gay and transgendered people once and for all, with three landmark cases which
| | |
| --- | --- |
| | RAHMA-SOPHIA RACHDI |
| | Daren Frankish |
| | Ruby BIRD |
| | Yasmina BEDDOU |
| | Roberto Magni |